Patented Simplicity with Many Options
Our RailEasy™ Cable Railing System is based on our patented cable rail fittings. This collection of innovative components can be utilized to install cable railing in just about any situation. Stairs, angles and long runs are made easy with RailEasy™. With this DIY friendly system, you can handle any cable railing job. Enjoy years of low maintenance and unobstructed views, indoor or outdoor.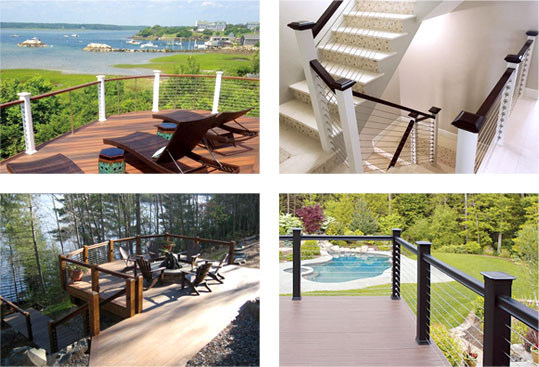 The Optimal View Rail
The RailEasy™ Cable Railing System will show your view like you never imagined. You make the choice of materials to use for the cable rail frame and let our DIY cable railing components do the rest. RailEasy™ is the perfect option for any outdoor or indoor project. See what other customers have done by mixing materials with RailEasy™ to provide a one of a kind railing, for a one of a kind view.
PATENTED SIMPLICITY
The RailEasy™ cable system is an affordable, attractive and low maintenance railing infill option for any indoor or outdoor application. These RailEasy™ fittings are made from marine grade stainless steel and fit a 5/32" diameter stainless steel cable. In addition to the standard RailEasy™ Tensioner, Cable Railing DIY has developed additional fittings as alternative options.
RELATED PRODUCTS
HandiSwage™ Cable Railing
The HandiSwage™ System is designed to allow hidden cable fastening utilizing innovative swage components.
The RailEasy™ Tensioner is the primary cable railing tensioning/fastening device.
The RailEasy™ Cable Sleeve is used to protect your wood posts from incidental damage and chafing from cable rubbing around the outside of your mid post cable holes.
The RailEasy™ Cable is designed to be used for cable railing applications.
The RailEasy™ Cable Cutter is an important tool when installing a cable railing system.
The RailEasy™ Installation Tools are important when installing a cable railing system.
The RailEasy™ Drilling Template makes for an easy installation of a cable railing system.